Shaun Robinson Biography
Born and raised in Michigan, Shaun Robinson is an American television personality, author, actress, producer, philanthropist, and television host. She gained a lot of attention for hosting Access Hollywood from 1999 to 2015. In 2016, she became the host of 90 Day Fiance.
Shaun Robinson Age
Shaun was born on the 12th of July, 1962, in Detroit, Michigan, United States. The television host is 59 years old as of 2021.
Shaun Robinson Height
Shaun is 5 feet 6 inches tall and has a fit body. The actress works out a lot in order to maintain her body shape and lead a healthy lifestyle.  Her hair is black paired well with her brown eyes.
Read Also Kit Hoover Bio, Age, Height, Family, Husband, Road Rules, Net Worth
Shaun Robinson Family
Shaun was born in Detroit, Michigan where she was also brought up. Her father's name is Wiley Robinson. Her mother's name is not yet disclosed. Robinson has three siblings; one brother and two sisters one named Carla Robinson.
Shaun Robinson Sister
Shaun was raised alongside her three siblings; a brother and two sisters. One of her sisters is called Carla Robinson. Shaun and actress Holly Robinson-Peete are often mistaken for siblings because of their last names. The two actresses are not related in any way.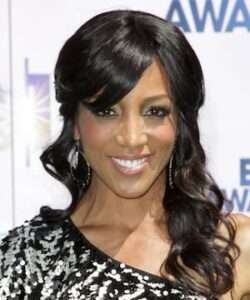 Shaun Robinson Husband
Robinson is currently a single woman. She was in a previous marriage with Darryl Hamilton an MLB player. Robinson and Darryl got married in 1994.  After years of marriage, the two decided to get a divorce. Reasons why are still undisclosed.
Shaun Robinson Career
Robinson began her journalism career at WWJ-TV, in Detroit then later moved to WISN-TV in Milwaukee, Wisconsin. Here she worked as a medical reporter and weekend anchor. Her series focused on women and cancer earned her an Associated Press Award. Robinson moved to KEYE-TV in Austin, Texas in 1995.
While at KEYE-TV she made a series "Profiles in Power" which earned her an American Women in Radio and Television award. Shaun served as a  weekend anchor and correspondent for Access Hollywood from 1999 to 2015. She has made appearances on NBC Nightly News and Today.
In 2010, Shaun competed in the game show Don't Forget the Lyrics. She won $10,000 which she donated to Girls, Inc. Charity.  In 2020 Forbes published an article about Shaun as part of its ongoing series called "The Secrets of Successful Women.
Her first book was published on March 31, 2009. The book is titled "Exactly As I Am: Celebrated Women Share Candid Advice with Today's Girls on What it Takes to Believe in Yourself".
Shaun Robinson Salary
It is obvious that Robinson makes a decent amount of money annually. There is, however, no information about her current salary.
Shaun Robinson Net Worth
Shaun's net worth has been estimated to be $2 million as of 2022.
Shaun Robinson Twitter